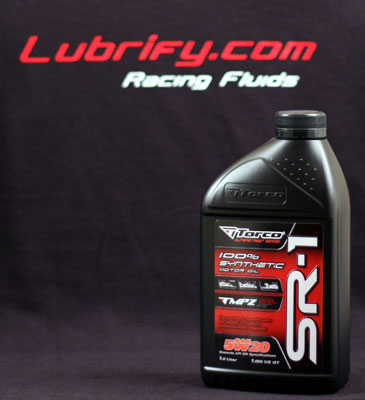 Lubrify.com is proud to offer Torco Synthetic Racing oils. Since the 1950's Torco has been at the forefront of racing oils. The need came from the use of inferior oils in racing motorcycles. Things took off as Torco specialized in racing oils that offered better lubrication, cool, sealing, less carbon and sludge, better wear protection, and a boost in horsepower from the reduced friction.
Torco's synthetic Oil, SR-1 is offered in: 5w-20, 5W-30 5W-40, 10W-30 and 20W-50. The 5W-40 exceeds: API SM/CF, ACEA C3-04, ACEA A3/B3/B4, MB229.31, VW502.00/505.00, BMW Longlife-04, Porsche
Torco's synthetic racing oil, SR-5 is offered in: 0W-20, 5W-30, 5W-40, 5W-50 and 20W-50.
Torco offers racing gear oil in both petrol blend and 100% synthetic. This racing gear oil, along with Torco's Limited Slip Friction Modifier are prefect for differentials, transmissions, limited slips, such as those in Subarus, S2000s and KAAZ LSDs.
We typically have all of the common engine weights in stock as well as RGO and RTF; we can source most anything else in 24-48 hours. We are your source for Racing Fluids in the Greater San Francisco Bay Area.

Located in Dublin, CA, we serve the Tri Valley of San Ramon, Dublin and Pleasanton. With a delivery route that goes North to Danville, East to Livermore, West to Hayward, and South to San Jose; we have daily deliveries to Fremont.
Email us with any questions or for a quote: benny{at}lubrify.com